Recommendations for use
Correct use of the interlock sheeting Melavill SP
All sheet pile interlocks and steel products by Hirnböck Stabau are dispatched with recommendations of use and safety data sheets. The sheet pile interlock Melavill SP is initially heated to a maximum 200 °C in its packaging in a suitable, indirectly heated agitator boiler.
Preparation
The sheet pile interlocks have to be dry, clean, free of loose parts, free of grease, oil and dust. Otherwise, for Melavill SP to stick in the interlocks, a cleaning with compressed air, wire brush or high pressure water jet is recommended.
The steel sheets must be laid out in a perfectly horizontal position. In order to prevent the liquid Melavill SP from flowing out of the interlocks at the ends, they must be sealed with putty or similar.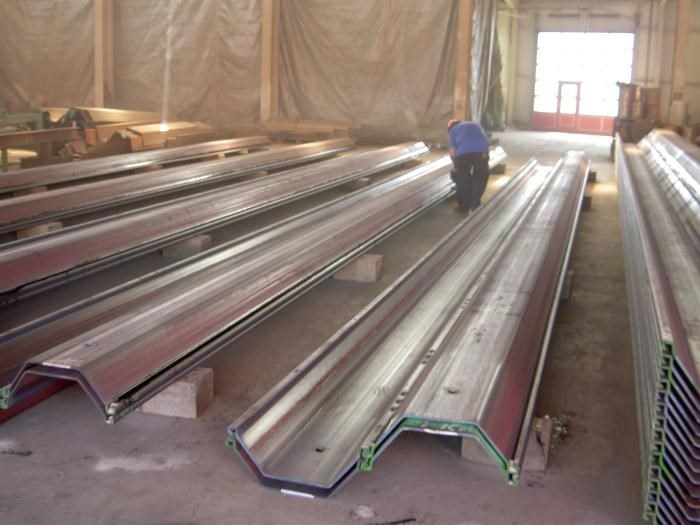 Consumption
approx. 0.30 kg per lm in threading interlock
approx. 0.10 kg per lm in pressed middle interlock
approx. 0.35 kg per m² sheet pile wall – at 600 mm sheet pile width
approx. 0.30 kg per m² sheet pile wall – at 700 mm sheet pile width
approx. 0.25 kg per m² sheet pile wall – at 750 mm sheet pile width
The quantities given are based on the Larssen interlock according to EN 10248. For other types of interlocks, consumption may vary accordingly.
Durability
The durability of Melavill SP in the filled sheet pile wall is:
| | |
| --- | --- |
| in water with a pH-value of 3.5 to 11.5: |  very good |
| in seawater: |  very good |
| in mineral oil: |  low |
| in gasoline and crude oil: |  very low |
Receive your sheet pile interlocks here – have you placed your order already?
---